Procure-to-Pay Automation Guide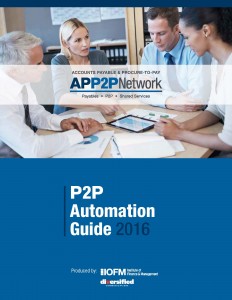 From supplier sourcing to invoice settlement, businesses have never had so many ways of finding and paying for goods and services. And with many Procure-to-Pay automation vendors expanding into supply chain financing, buyers have never had more control over when and how they pay. AP & P2P Network research suggests that the Procure-to-Pay function will experience a fundamental transformation in 2016.With change, however, comes confusion. And finding the right combination of tools to facilitate the purchase of the right products, in the right quantity, at the right quality and price, delivered on-time, to the right location, can be a daunting task.Procure-to-Pay Automation is a complex chain of processes encompassing supplier selection, ordering, approval, receipt, payment and reconciliation. The system must be convenient. Product choices must be comprehensive and price-competitive to meet the purchasing needs of stakeholders and discourage "rogue" purchases. Sensitive payment data must be secure enough to prevent fraud. Robust reporting and analytics are critical. And the solution you choose needs to integrate with your ERP system, and deploy in a way that is consistent with your organization's IT policies, capacity and culture.The AP & P2P Network created the Procure-to-Pay Automation Guide to assist you in your selection process. Business process automation is supposed to save time and money. Finding the right solution(s) shouldn't add to your administrative burden. The Procure-to-Pay Automation Guide is your comprehensive source for Accounts Payable and Purchase-to-Pay automation.
Download the Procure-to-Pay Automation Guide by completing the fields below.
Having issues using the form below? Call 207-842-5557 or email customerservice@iofm.com for assistance.