Training Products
Get completely prepared for year-end reporting with the 2017 Master Guides to Compliance!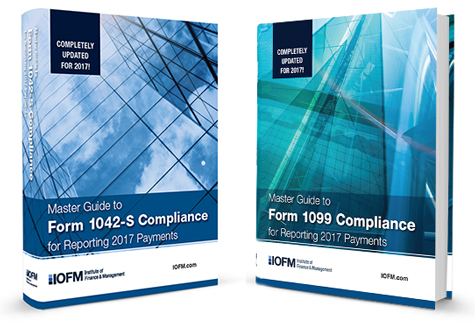 Each book covers critical updates for reporting year 2017, plus essential information for maintaining compliance in 2018
IOFM's Form 1099 and Form 1042-S Master Guide textbooks are your definitive resources for year-end reporting and year-round compliance. Each book contains comprehensive information concerning IRS rules and regulations, wha
…
Read More

The 2016 FATCA updates are now in effect. Are you in compliance?
This IRS Regulation Bootcamp covers Form 1042-S, 1042 and W-8 compliance, plus a look at Form W-9 and 1099-MISC compliance for 2016. Payments to foreign vendors and other foreign recipients are under IRS scrutiny as never before, with enforcement of the "withholding at source" rules of chapter 3 of the Internal Revenue Code plus FATCA rules under chapter 4 of the I.R.
…
Read More