2017 Master Guides to 1099 and 1042-S Compliance
Get completely prepared for year-end reporting with the 2017 Master Guides to Compliance!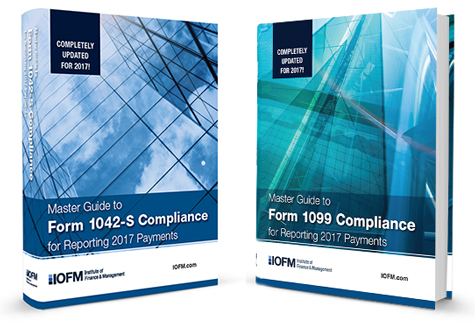 Each book covers critical updates for reporting year 2017, plus essential information for maintaining compliance in 2018
IOFM's Form 1099 and Form 1042-S Master Guide textbooks are your definitive resources for year-end reporting and year-round compliance. Each book contains comprehensive information concerning IRS rules and regulations, what is reportable, when and how to file to the IRS, compliance checklists, and a year-end review that will save you time and help you avoid penalties.
---
2017 Master Guide to Form 1099
The 2017 Master Guide to Form 1099 provides detailed instruction surrounding the reporting rules, regulation updates and changes, and provides indexed information for the very wide range of reporting scenarios that you could encounter in Accounts Payable. The wealth of supporting documentation will help ensure that you are reporting accurately, on-time, and stay in compliance.
As closing the tax gap continues to occupy both Congress and the IRS, there are continued IRS enforcement efforts designed to increase reporting by payers, increase the withholding of federal tax where required, and produce more accurate reporting of income by taxpayers.
The book covers:
NEW IRS Form W-9 (November 2017 revision) and NEW W-9 Instructions
New legislative developments that may affect your 1099 reporting
Identifying payments that require Form 1099-MISC reporting
IRS penalty notices and updated IRS "reasonable cause" guidance
Reporting attorney fees and legal damages payments
Fringe benefits and expense reimbursements
Middlemen, agents and assignments of income
State 1099-MISC reporting
---
2017 Master Guide to Form 1042-S
The 2017 Master Guide to Form 1042-S Compliance The 2017 Master Guide to Form 1042-S provides detailed instruction on new Regulations, Forms and Instructions issued in 2017, updates affecting this year's reporting, an in-depth look at current rules (NFFEs, FATCA, ECI, and more), and when and how to file. The book includes a full glossary, a compliance and year-end checklist, as well an appendix.
Payers must be able to identify their payees as U.S. or non-U.S. individuals or entities from initial contact with them, as well as determine whether payments made to them throughout the course of the year require withholding of U.S. tax and reporting to the IRS.
The book covers:
Five NEW W-8 forms issued by IRS that you must implement
NEW 2017 amended Regulations now in effect for foreign vendor payments and FATCA compliance
Changes in the Form 1042-S layout and codes
NEW additional data required on Form 1042-S
Tax withholding requirements and tax treaty benefits
How to review W-8 forms and cure defective forms
When to deposit withheld tax and how to reconcile and report on IRS Form 1042
---
Save $145 automatically by purchasing both books.
Save $245 if you're a member!