Procure-to-Pay (P2P) Certification
What is the IOFM Procure-to-Pay Certification program?

With nearly 20,000 certified financial operations professionals worldwide, IOFM's rigorous certification programs set the global standard for excellence in the accounting profession.
IOFM's P2P Certification program is designed to equip both procurement and payables leaders and their staff to think end-to-end, to analyze and redesign their current processes, and to introduce and manage change.
Is P2P Certification right for you?
Whether you want to support your organization's evolution toward P2P, or you want to optimize your existing P2P process, this training will give you and your team the resources and knowledge you need to become a leader in your organization's advancement toward achieving a true end-to-end process.
An Unprecedented Training Program
Available entirely online and on-demand, the program includes a comprehensive study guide, a 6-hour training video, a practice exam, and a 90-minute, 100 multiple-choice question exam (each candidate has up to three attempts to pass).
Certification is maintained by earning 15 Continuing Education Units (CEUs) annually, keeping you up-to-date with latest in P2P best practices, compliance and technologies.
Key areas of study include:
Advantages and benefits of developing a coherent, integrated end-to-end process
Process ownership, scope, alignment and management
Process mapping from recognition of need through settlement
The processes: procurement / receipt of goods / accounts payable / payment
Types and use of commercial credit cards in the process
Cash management: working capital management, payment methodologies, terms and discounts, and other tools
Vendor management: ownership, vendor selection, relationship management, customer service, and the vendor master file
Compliance issues and regulatory reporting
Internal controls, fraud and risk management policies, procedures, and fraud prevention
Automation technology: ERP, P2P, e-sourcing and e-procurement, e-invoicing, contract management, imaging & workflow
And for managers, three in-depth sections addressing:
Leadership: communication, collaboration, customer service and P2P team building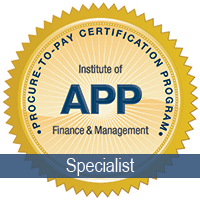 P2P Specialist Certification Program (APPS)
$795.00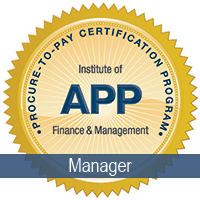 P2P Manager Certification Program (APPM)
$795.00