Certification for Solutions Consultants
Credibility counts
Understand the critical concepts that are at the forefront of your customers' minds when they seek an automation solution. Say hello to stronger sales with certification from IOFM. Here's why:
Speak your customers' language.
Certification builds skills – from the fundamentals to the advanced nuances of AP. With an in-depth understanding of the AP profession, you'll be able to speak your customers' language – fluently! You'll be able to ask detailed questions that build credibility and get to the heart of your client's needs. Communicate clearly with current and potential clients about their challenges to work towards a solution that fits their needs best. Your certification credentials establish a sense of trust and respect that fosters stronger relationships with both existing and prospective clients.
Know what your customers need before they do.
You can see the future – the future of AP, at least! Armed with a thorough understanding of your customer's pain points and day-to-day challenges, you can not only provide them with the best solutions available today, but also support them as they lay the groundwork for future innovations. APSC certification helps you position your solutions at the forefront of the field and cement long-term relationships with your customers by growing and evolving with them.
Bring in more revenue.
Two things are critical when it comes to driving revenue: your relationships and your reputation. Certification gives you the knowledge, understanding and empathy to build genuine relationships with customers, ensuring that you retain and grow your existing customer base. APSC certification puts you in an elite class of trustworthy, instantly credible individuals who have made the effort to truly understand the needs of the 21st century AP function. Earning the APSC designation places you ahead of the competition and enhances your reputation in the eyes of your prospects.
Verifiable results.
Knowing that a staff member passed the certification exam offers you critical insight into individual and departmental performance. Certifying your finance and accounting teams provides upper management with clear, measurable performance improvement metrics that demonstrate your team's accountability and commitment to being best-in-class.
AP Certification for Solution Consultants
Key areas of study include:
Office of Foreign Assets Control (OFAC)
Record Retention/destruction policy
Evaluating AP software solutions
P2P Certification for Solution Consultants
Key areas of study include:
Advantages and benefits of developing a coherent, integratedend-to-end process
Process ownership, scope, alignment and management
Process mapping from recognition of need through settlement
Types and use of commercial credit cards in the process
Compliance issues and regulatory reporting
Cash management: working capital management, payment methodologies, terms and discounts, and other tools
Vendor management: ownership, vendor selection, relationship management, customer service, and the vendor master file
Become certified in a few simple steps.
PREPARE.
No matter what your learning style or schedule, the program's online study materials ensure that you'll be fully prepared for success. Review your study guide, watch the training video, and even take a practice exam to build your confidence. Chip away a little at a time or all at once – this program is designed to help you prepare at a time and pace that works for you.
EARN.
To earn your certification you'll need to pass a comprehensive 90-minute exam. Been a while since you've taken an exam? Don't sweat it. You'll take the test online and have up to three attempts to pass within one year of enrollment. Your study materials were developed to help you succeed, so don't worry – you've got this.
MAINTAIN.
Congratulations – you're officially an Accredited Payables Solution Consultant! Your certification credentials place you in an exclusive group of AP solution providers whose understanding of the AP process is recognized and acknowledged. APSC certification does not require you to maintain Continuing Education Credits (CEUs), so go ahead and update your resume, business cards, and email signature. Watch certification strengthen your existing customer relationships and establish immediate credibility with new prospects.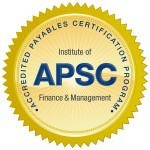 Accounts Payable Solution Consultant Certification Program
$795.00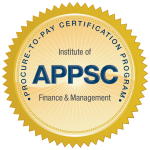 Procure-to-Pay Solution Consultant Certification Program
$795.00