Accounts Payable Certification
What is the IOFM Accounts Payable Certification program?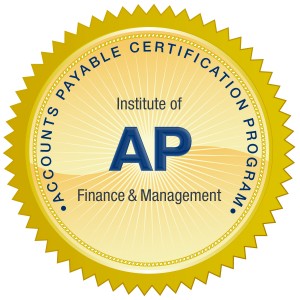 With nearly 20,000 certified financial operations professionals worldwide, IOFM's rigorous certification programs set the global standard for excellence in the accounting professions. Earning your Accredited Payables Specialist (APS) or Accredited Payables Manager (APM) certification demonstrates your firm grasp of the fundamentals, a thorough understanding of best practices, and your commitment to accuracy and compliance, all of which are necessary to excel in the field of Accounts Payable. The APS and APM designations are held by individuals and AP departments at leading Fortune 500 companies, non-profit organizations, colleges and universities, and institutions around the world who value accuracy, efficiency, clarity and transparency in the accounting function.
An Unparalleled Training Program
Whether you are just starting your path in AP or are a well-established professional, the AP Certification program will serve you well as you advance in your career.
Available entirely online and on-demand, the program includes a comprehensive study guide, a 6-hour training video, a practice exam, and a 90-minute, 100-question exam (each candidate has up to three attempts to pass).
Certification is maintained by earning 15 Continuing Education Units (CEUs) annually, keeping you up-to-date with latest in AP compliance, best practices and technologies.
Say hello to a brighter future in AP.
Becoming APM or APS certified will take your career to the next level. Whether you're looking to take on more responsibility in your current role, are seeking a promotion, or are exploring new career opportunities, AP certification sets you apart from the rest. Benefits of becoming certified include:
Higher earning power. Our research indicates that certified AP professionals earn more than their non-certified peers. While your day-to-day performance says a lot about you as an individual, completing the training program and passing a rigorous exam proves that you have a firm grip on the core principles of the profession – and that's a distinction that gets rewarded.
Sharper skills. Certification builds skills – from the fundamentals to the advanced nuances of AP. To maintain your APS or APM certification, you'll engage in continuing education for 15 hours each year, keeping you up-to-date on the newest developments in your field.
More respect. Certification places you in an exclusive group of AP professionals whose skills are proven to meet a global standard of excellence. Receiving your AP certification increases your credibility and shows your peers, supervisors, and the public your commitment to your line of work.
A stronger resume. Job searches are competitive, and it's not easy to get your resume to the top of the pile. Certification demonstrates that you've gone above and beyond to develop your skills and that you meet a rigorous training standard.
Want an in-depth look at certification?
Download the certification brochure here.
OR
Download the Study Guide's table of contents.
Download the Study Guide's table of contents.
PS. Interested in getting your entire department certified? Team certification unifies your department, giving them the same core competencies and training to work smarter, not harder. Not to mention, you save more! Learn more about the benefits of departmental certification by calling 207-842-5557.
---
Enroll Now: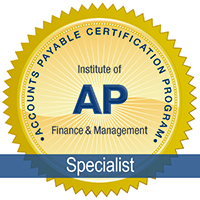 Accounts Payable Specialist Certification Program
$795.00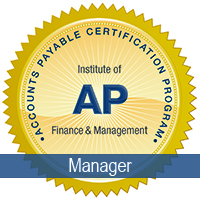 Accounts Payable Manager Certification Program
$795.00