How Leading Companies "Unlock the Full Potential" of P2P

Jess Scheer Continuing Education Manager, IOFM
Most organizations run P2P in two separate silos: Procurement is responsible for selecting and negotiating terms with vendors and then ordering goods or services from those vendors. And then the purchase gets tossed over the wall to AP to pay for it.At very small organizations, this distinction is blurred. Procurement and AP may be done by the same person or by two people who sit near enough to each other to naturally work together. But as organizations grow, these silos become hardened barriers.In mid-sized and larger organizations, procurement and AP tend to report to different people, in different parts of the business. Both functions define success differently and are measured by different — and sometimes conflicting — performance measures.And it's this broken relationship that is responsible, at least in part, for why most P2P processes leave significant savings on the table, according to David Schannon, a Bain & Co. partner, who focuses on performance improvement and procurement.By better integrating procurement and AP, truly running them as parts of a single process, he says companies can cut the cost of their annual external spend by between eight to 12 percent. And for those that continue to link procurement and AP and work to change the silo culture, additional savings of two to three percent can be generated every year.While it varies by industry, Schannon says that on average, upwards of 40 percent of a company's costs are composed of external spending. Learning how to "buy better and spend better" can transform P2P from a tactical and functional cost center to a significant strategic partner to the business.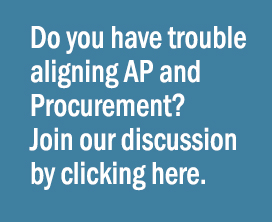 The industries that have been among the first to embrace this approach includes those that sell industrial goods and services, healthcare, technology, and financial services. Automotive and semi-conductor businesses were among the first to automate procurement tasks, and therefore are also among the first to approach P2P holistically.The savings found from improving P2P processes fall into two buckets: approximately 60 percent comes from traditional procurement tasks and 40 percent comes from AP tasks — but he warns that none are possible if both functions don't work together seamlessly."There are huge opportunities on the table, but it requires an end-to-end approach," Schannon says. It's important for organizations to consider "broadening the responsibilities of accounts payable, giving them a seat at the table. Leading companies are starting to do this and are unlocking the full potential" of P2P.
What's Required to Operate P2P Holistically?
First, there's usually a burning issue that encourages leadership to consider adjusting the role of procurement and AP. "The trigger can be any number of things: Pressure from new competitors to improve profitability, a dip in the global economy, a need to fund new growth initiatives, etc.," he says. "Something has to come to a head and senior leadership has to be open to making a real case for change."And that case has to be embraced by a "change-oriented sponsor," typically a CFO, COO or CEO, Schannon says. That sponsor has to make the case that there are significant savings to be had by doing things just a little bit differently. And that change is required across each function to make that happen.Second, the sponsor has to find the right person to lead P2P from beginning to end, he says. "You need someone who is good at working cross functionally and can influence large sets of business leaders."Having a single end-to-end process owner for P2P doesn't necessarily require changing an organizational chart, a political landmine for many organizations. Instead, Schannon often suggests that clients simply create dotted-line reporting from both procurement and AP to the P2P process owner. Where they sit in the organization matters less than making sure there's alignment and linkage between both sides. And that, ultimately, the P2P owner has full accountability for the success of the end-to-end process.Third, performance metrics have to be evaluated to make sure everyone is doing what's in the best interest of the entire organization, not just their individual functional silo.For example, because non-PO invoices can be easily automated, there's a natural push by AP to encourage more purchasing to be funneled through that channel. If your performance is evaluated based on number of invoices processed or how few invoices require manual intervention, AP is essentially being told to encourage more non-PO spending.However, Schannon says that if you take a holistic look at all spending, PO invoices "give you greater visibility into what drives spending," enabling the organization to find ways to spend smarter."Stop thinking about the cost to process an invoice, which is a very narrow metric," he says. Instead, consider what would drive cost efficiencies throughout the organization. Benchmarking your costs as a percentage of overall spend can align efforts.Case-in-point: because of the avian flu, the price of eggs skyrocketed. As a result, the costs associated with the employee cafeteria breakfast was spiraling out of control at one of Shannon's customers. A traditional procurement approach would have been to either absorb the hit or work to lock-in forward pricing and then use AP to manage the new terms. Instead, procurement and AP looked at the entire process. In the end, the best solution was to go to the chefs and challenge them to re-engineer the menus to use fewer egg-based items until pricing normalized.In the end, perhaps the best reason to strategically align procurement and AP is that supply chains are constantly changing. Every day, vendors are consolidating and globalization is forcing supply chains to expand across much broader networks of vendors — and each change adds layers of complexity."Operating holistically allows you to adapt quickly" to inevitable market changes, Schannon says. But if your P2P process is broken between misaligned silos, the challenges will only be exacerbated by dynamic changes in the market. "Companies that have their house in order — those that have aligned their processes and have set roles, responsibilities and decision rights — are better positioned to absorb change faster."
What Would This Mean for You?
In an environment in which silos are replaced by cross-functional process management, many tactical roles are replaced by strategic responsibilities.Within organizations that have adopted this approach, roughly half the AP full-time employees are focused on strategic opportunities to drive savings and half are focused on day-to-day transactional tasks. In most AP functions today, almost all FTEs are transactional and tactical, and few have strategic responsibilities.By raising the profile of P2P, there's greater potential for AP practitioners to advance in an organization. A seat at the executive table, serving as the steward on contract compliance, is a far cry from today's common fear of losing one's job to automation.